We want to be good neighbours and we'll be working collaboratively with the people who are affected by our activities
Engagement report 2020/21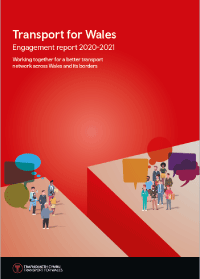 Our community engagement
We want to make sure that we listen to the needs and concerns of the communities and businesses affected by our work to build the South Wales Metro.
Our community engagement team is working hard to engage with these communities and businesses and you can read our communications below:
There is a substantial construction, engineering and infrastructure programme needed over the coming years to build Metro and we thank you for bearing with us as we work on it.
Radyr and Morganstown
Site plans

Compounds provide adequate space and allow our people to work safely beside the railway, store and transport materials up and down the track and provide access to undertake the required construction and engineering work. 

They're temporary, required for the duration of the Metro rail transformation works.  

Whilst the plans are still in draft, we need to set up a site at Morganstown fields beside the railway at Gelynis Farm. This will include site cabins, welfare facilities for staff and storage for materials and equipment, with a route to site off the current railway access road beside Pugh's Garden Village.

We've made the compound as small in size as we can and will also be installing acoustic barriers to reduce noise pollution.
HGV (heavy good vehicle) access

Identifying suitable sites is a complex task which involves consideration of availability, size, proximity to the railway, and location in relation to key works. We recognise there may be concern regarding HGV access to the site in Morganstown and want to assure you that we are considering this in our planning and have already reviewed alternative routes.

Access to the site would be via the North, thereby avoiding most nearby housing and amenities, with vehicular access restricted to suitable times in discussion with the local community and agreed by Cardiff Council. 
Crossing

The increased services provided by Metro in future will result in a much busier railway line, with double the number of services running through this area. Therefore, Gelynis Farm crossing as it is currently operating will be unsuitable for future vehicle and pedestrian use.  

We believe the safest and most effective way of reducing the crossing risk is to close the road crossing at Gelynis Farm and replace it with a new crossing that goes over the railway, slightly south of the existing crossing.  

These works are not related to the compound plans and will not adversely affect Gelynis Farm as we are required by law to provide a suitable method of access for landowners.

We're currently working with landowners and local stakeholders to shape our plans for this replacement and will keep the community updated as these progress.
Land ownership

Transport for Wales (TfW) has purchased Gelynis Farm and is seeking to lease nearby land (north west and south west fields). Once the crossing replacement is completed, Gelynis Farm and its curtilage will be re-sold to new occupants, with leased land being returned to the landowner. TfW plans to retain no land, except for railway crossing itself, and suitable access for maintenance.
What's next?

Whilst plans are still in development, we want to ensure our community is well informed and that we understand any local concerns. We would like to hear from you and welcome you to share your thoughts by  completing our feedback form.