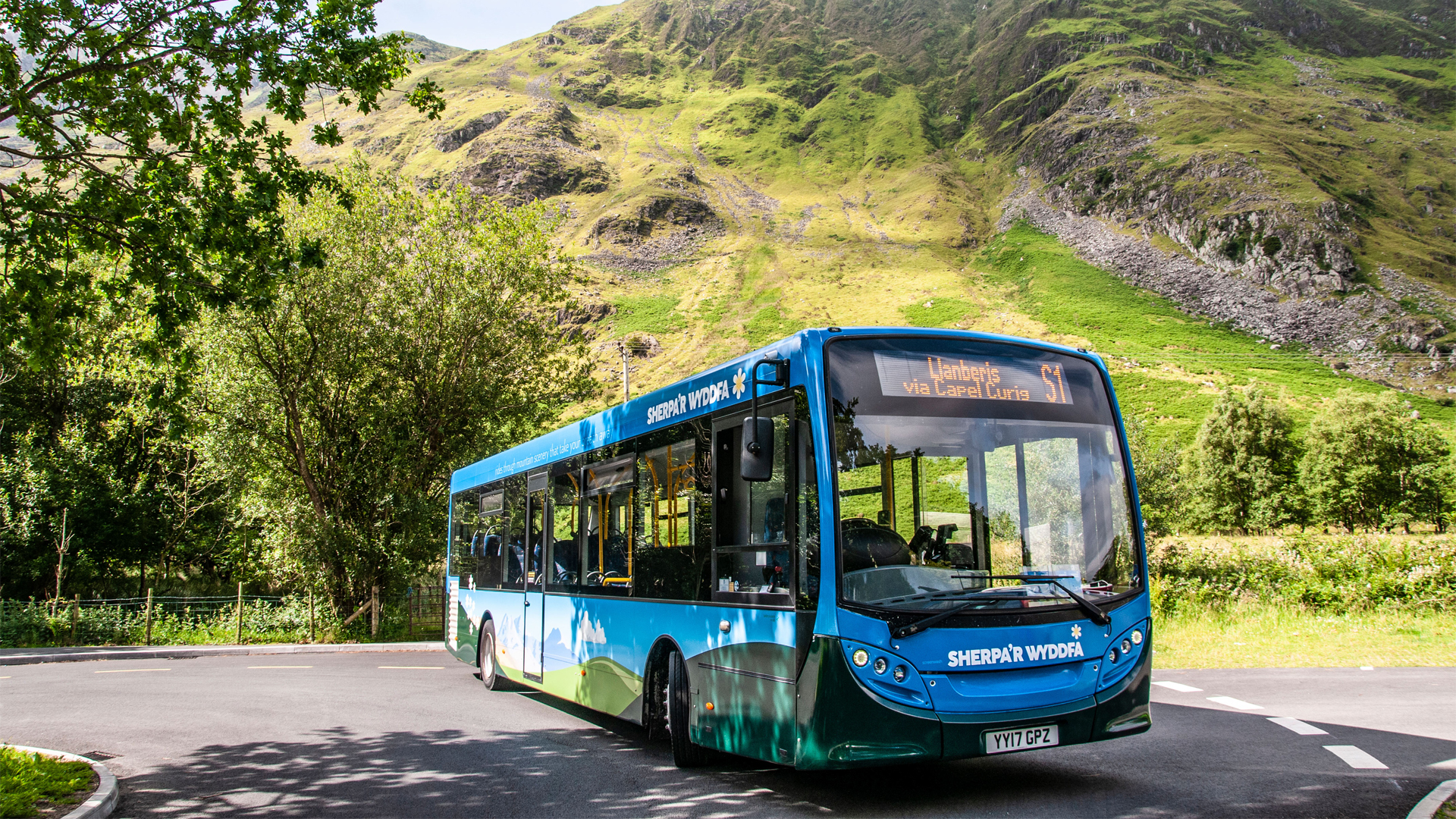 Improving bus services across Wales
We're looking at how we can improve the journey times and reliability of bus services throughout Wales. 
Here's a more detailed look at what's happening in your corner of Wales:
North Wales
Our multi-million-pound North Wales Metro Programme will transform rail, bus and active travel services across North Wales. 
We're working on plans to improve stations, making it easier to change between rail and bus services at Wrexham General, and between North Wales Coast and Borderlands line rail services at Shotton. 
We've worked with Gwynedd County Council to improve the former Snowdon Sherpa bus service. The new 'Sherpa'r Wyddfa' is now operating in the area, bringing tourists and locals into the National Park – supporting the local economy and helping to ease road congestion by encouraging visitors to leave their cars at home or outside of the National Park. 
We're introducing more flexible, demand-responsive transport with fflecsi bus services being rolled out in Conwy, Gwynedd, Denbighshire and Flintshire.
We're building a more multimodal transport network in the region by integrating bus services with other modes of transport. 
We're Introducing Tap On / Tap Off capped travel using contactless bank cards across 25 bus operators in North Wales. In addition, we've worked with the local authorities and bus operators to introduce Tap On / Tap Off travel on the 1bws ticket that supports capped travel on all bus services in North Wales for £6.
South Wales
We're working with Cardiff Council to develop the Cardiff Bus Interchange. It's part of an integrated transport hub that will provide easy interchange between all modes of public transport. 
We're working with Rhondda Cynon Taf Council to deliver and operate a new bus and train interchange at Porth. 
We're working with Caerphilly Council to deliver a new bus and rail interchange at Caerphilly.
We're working with the Cardiff City Region (CCR) and local authorities to deliver WelTAG Stage 2 business cases to deliver the Metro Enhanced Framework (MEF) for four public transport corridors centred on Bridgend. This will deliver better modal integration and faster bus journey times.
We're helping the Burns Delivery Unit to accelerate the implementation of the Burns recommendations. This includes Bus Rapid Transit (BRT) between Newport and Cardiff, proposals for a new bus and train interchange at Newport railway station and a reworking of the congested Old Green roundabout to prioritise bus, walking, wheeling and cycling.
We've introduced electric buses on the TrawsCymru T7 route between Chepstow and Bristol.
What's coming down the road with bus?

We're looking at more ways we can encourage a modal shift from car to bus to help decarbonise Wales' transport network.
We're providing clearer information for customers at railway stations to promote onward travel by bus.
We're looking at proposals for more integrated ticketing between bus and rail to save you time and simplify your journeys.
We're driving greater integration between bus services and walking, wheeling and cycling routes, with benefits for our health as well as our environment.
We're developing a pay-as-you go scheme, featuring integrated rail and bus contactless ticketing and capping of multi-journey fares.
Research and innovation is taking place that will allow buses to use clean fuels such as hydrogen, as well as run using electricity.