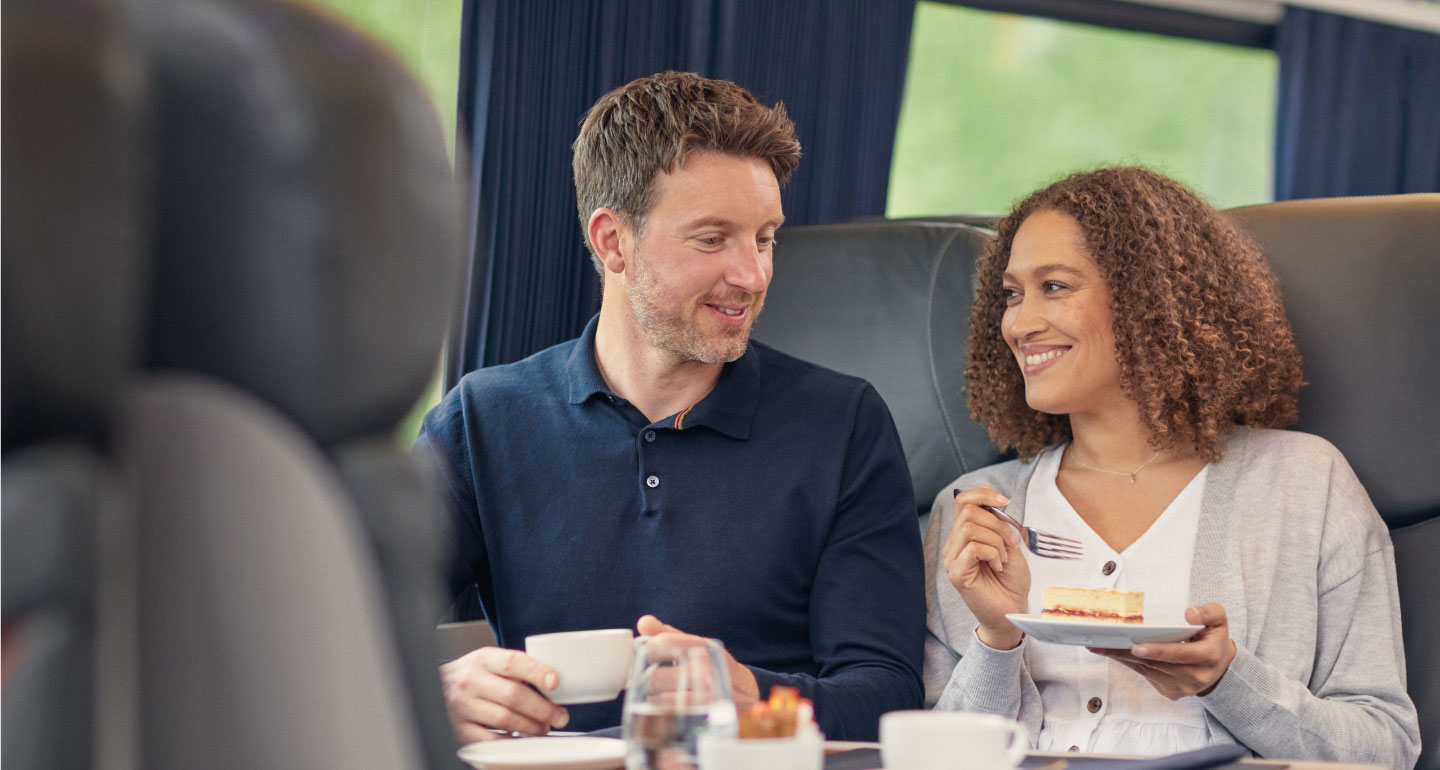 Experience our best comfort and customer service with a first-class ticket. 
Whether you're travelling for business or for pleasure, first-class tickets offer our finest journey experience. With larger seats and complimentary soft drinks and biscuits on selected routes.
What first-class train tickets are available?
We offer, flexible first-class Anytime and Off-Peak single and return tickets allowing you to travel at whatever time suits, perfect if your plans are likely to change, as well as low-cost Advance first-class tickets, however, these are only available in limited numbers.
We also offer an upgrade to first-class, passengers can simply purchase an upgrade from the onboard Conductor. First-class seats are limited and offered on a first-come, first-served basis.
How can I buy a first-class ticket?
You can purchase a first-class Single or Return ticket much like you would a Standard ticket: on our app, our website, at station ticket offices or at station self-service ticket machines.
Don't forget, you can buy tickets for all UK train services through us, so whether you're going from Cardiff to Holyhead or Newcastle to Paddington you can still buy your first-class tickets through us and benefit from paying no booking fees.
We've added the ability for you to spread payments over 3 instalments using PayPal Pay in 3 if your purchase is over £30. You can find more information on this option when you come to the payment screen.
Can I upgrade from Standard to first-class?
You can upgrade from a Standard-Class ticket to first-class on our services, where this is applicable. This applies for all our Standard tickets including Anytime and Advance Singles, Returns, Season tickets, and Rover and Ranger tickets. Please let the conductor know if you'd like to upgrade as they'll need to confirm there is space in first-class. Please remember there'll also be an additional cost for any meals you order on the train if you've upgraded to first-class.
Dining in first-class
Our talented chefs have created fantastic new menus with tasty, seasonal options from Welsh suppliers. Sample these at your table as the countryside of Wales and its Borders passes by. We hope you'll enjoy the greater variety we now offer.
Accessibility
We have 2 wheelchair spaces on board and wheelchair-accessible toilets. Doors to these trains are power-operated.
Our Assisted Travel team can provide further advice and support in planning your journey.
View train accessibility details

Carriage layout

Accessibility

​​​Access ramp
Yes 
Assistance button
Yes 
Priority seating
Yes
Wheelchair users' space
2
Universal Toilet
1
Door width (mm)
800

 

Routes

Cardiff - Holyhead

Future plans to run Swansea - Manchester Piccadilly (from December 2022)

These are the most common routes but they are subject to change.

What's inside

| | | |
| --- | --- | --- |
| | Baby changing | Yes |
| | Bicycle space | 4 |
| | Capacity | 222 |
| | Catering - at seat (selected services only) | Yes |
| | Charging sockets 3-pin only | Yes  |
| | Public Address | Yes |
| | Restaurant car | Yes |
| | Seats - standard class | 182 |
|   | Seats - first class | 40 |
| | Seats - priority | Yes |
| | Universal Toilet | 1 |
| | Toilet - not wheelchair accessible | 3 |
| | Visual Information Screens | Yes |
| | Wheelchair users' space | 2 |
| | Wi-Fi | Yes |
Did you know?

Wales has lots to offer

Find out the full extent of the Transport for Wales network

Explore our Network