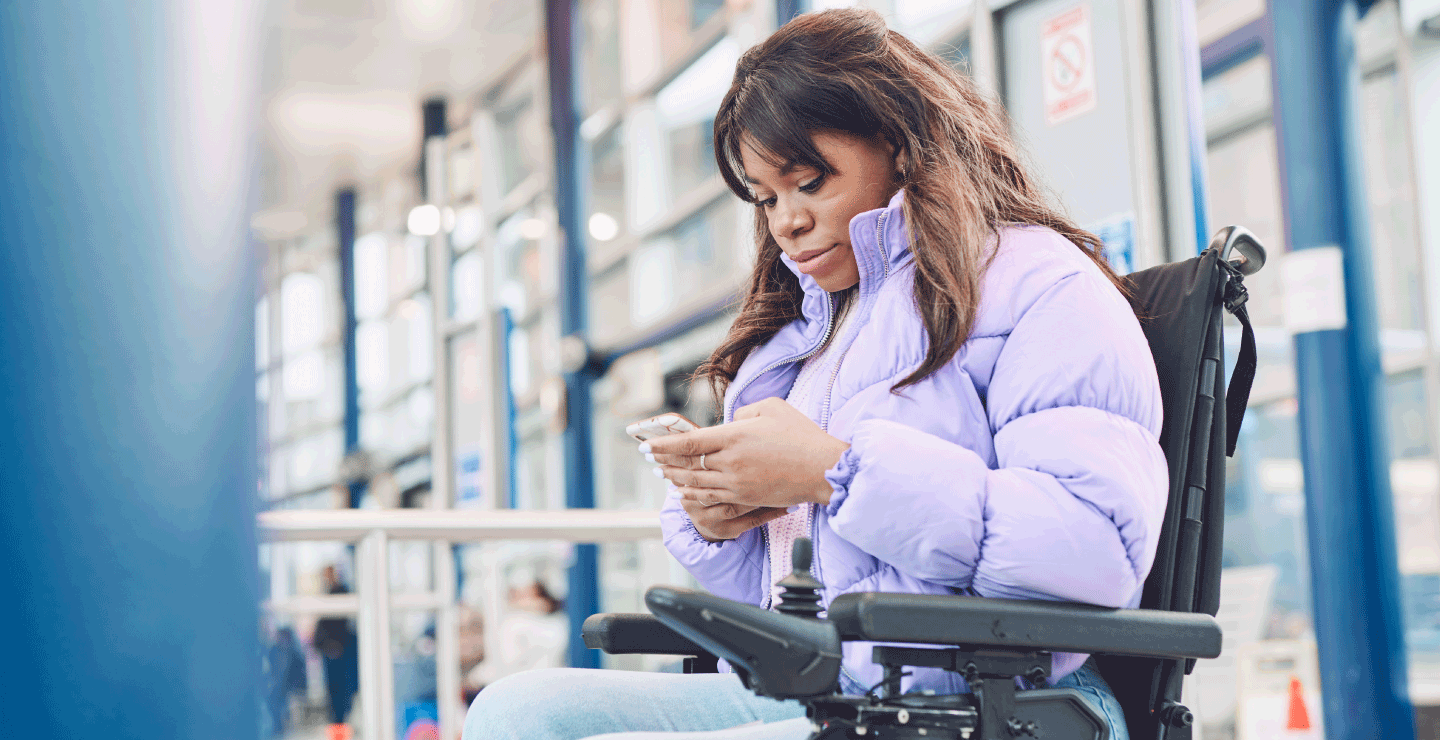 Booking assisted travel
We want to make it as easy as possible for you to travel with us and offer a range of assistance if you have access needs.
We'll always do our best to help you whether you're travelling at short notice or have booked assistance in advance.
Our normal Passenger Assist service continues is available for those requiring extra help to travel. We encourage passengers to book assistance before you travel – it will really help us plan and make sure you're not hanging around. 
There are several ways to book:
Online when you book your tickets: choose the help you need from our range of options
Online using our book assistance form
By phone: call our Passenger Assist team on 03330 050 501 (8am to 10pm everyday, except Christmas Day). 
By Next Generation Text: call our Passenger Assist team via text relay service on 18001 03330 050 501 (8am to 10pm every day, except Christmas Day)
Our Assisted Travel team can also sell you tickets and reserve seats or wheelchair spaces (on services where reservations are possible).
If you have not booked assisted travel, we will always do our best to help you, but it may take a little more time to arrange the support you need.
For National Rail
Tel: 03457 48 49 50 or 0800 0223720 (Open 24 hours every day except Christmas Day) 
Online - Website: https://www.nationalrail.co.uk/ 
Text Direct: 0345 60 50 600: (for people who are hard of hearing or deaf) 
Calls cost no more than calls to geographic numbers (01 or 02) and may be included in inclusive minutes and discount schemes in the same way.
Our Passenger Assist booking customer commitment

Passenger Assist is a national system supported by all train operating companies, which helps operators to arrange passenger assistance for disabled customers or customers with restricted mobility.
We are committed to this system and we have a specialist team who will provide journey advice, help you book assistance across the whole UK Rail Network, buy your tickets in advance and reserve seats/space on our trains and at our stations.
Our Passenger Assist phone team is available between 8 am to 10 pm every day (except Christmas Day) or you can use our online booking process 24 hours a day, 7 days a week (except Christmas Day). (Please see section C of our TfW Making Rail Accessible: Guide to Policies and Procedures.)
For the most effective service, we recommend booking and reserving assistance at least 6 hours before you travel (If you wish to make a booking between the hours of 10pm and 8am please use our online booking service).
If you are booking assistance for first thing the next day, we advise you submit this booking to our team before 10pm the day before travel to ensure it has been confirmed.
Our passenger assistance team operating hours might be different to other train operators.  If your journey involves another train operator, we will need to confirm their part of your journey. If this is outside of their operating hours, we might not be able to confirm all your assistance request.  If this is the case, we will contact you to discuss your journey options, including how you might want to undertake your journey.
You can book further in advance if you prefer. 
When you book your tickets: choose the help you need from our range of options (many available 24 hours a day). 
Passenger Assistance service with social distancing - What to expect 
Our team (if appropriate) will try to keep at arms-length and will spend the shortest time with you. 
Customers using a wheelchair or mobility scooter
Please face forwards.
Don't be alarmed if our team wipe the handles, it's all part of the service (we're regularly cleaning our own wheelchairs too).
We'll also position you 2m away whilst we set up a ramp to the train. 
Customer who need to use the lift
If we need to use the lift, our team will not join you in the lift. 
We will take alternate means to meet you on the relative floor, as we're trying to keep this to one person at a time – (it may not always be possible). 
Customers with a visual impairment 
Rest assured we will still provide assistance and position ourselves carefully.
Our team might be wearing additional equipment such as arm shields but don't be alarmed by this.  

Our Passenger Assistance call centre will ask extra questions, so allow a little more time to make your booking.
Train Accessibility
Find out about on-board facilities to help you plan your journey.
Please be aware that types of train that do not feature fully accessible facilities, including toilets, are operating on some routes. We're working hard to improve your public transport network, including more accessible trains. Read more about our accessibility features here.
Did you know?

Wales has lots to offer

Find out the full extent of the Transport for Wales network

Explore our Network