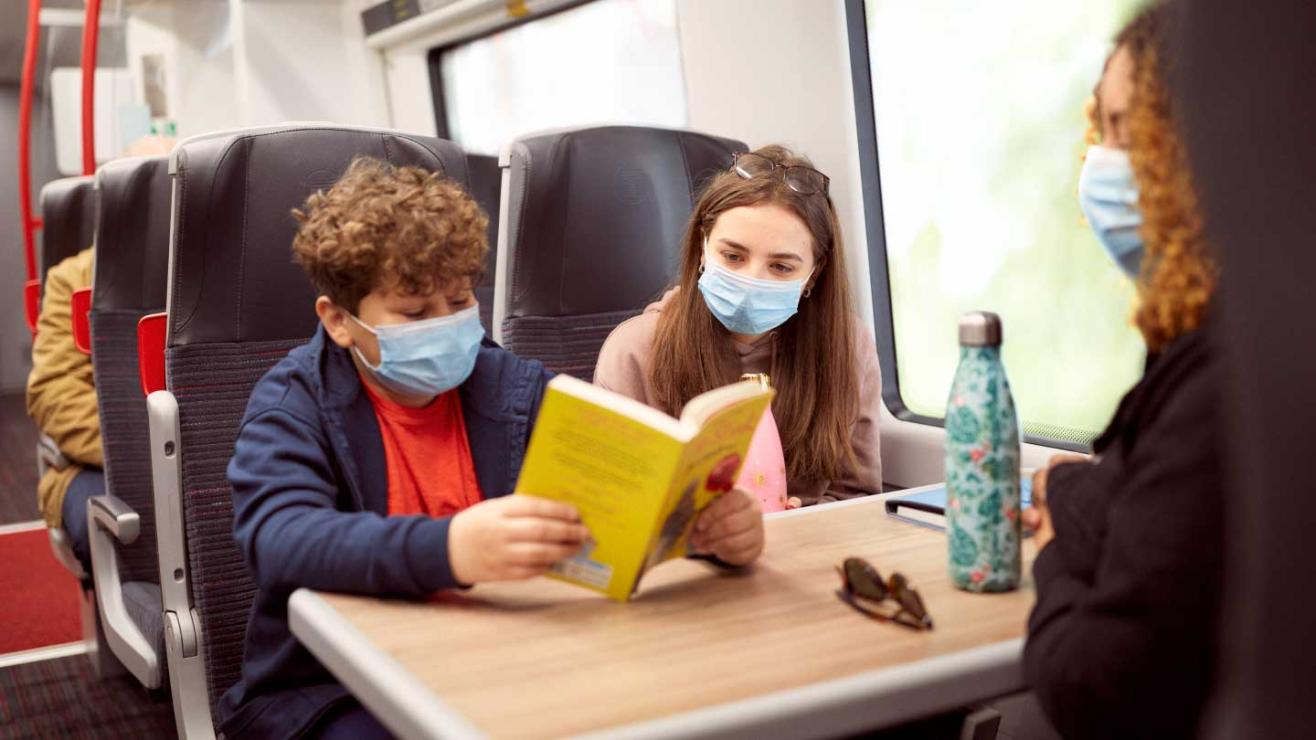 Advance tickets - low fares for longer distances 
Make reconnecting with friends and family more affordable
Advance tickets are typically our best value fares for longer journeys. Selected Advance tickets may be available on the day of travel, but we recommend you get them up to 12 weeks before your journey as the further ahead you buy the lower these fares can be. 
Advance tickets are one-way tickets, available for Standard and First class services. So, unlike return tickets, you can mix and match your start and end points to best suit your plans. You can also use your Railcard discounts in conjunction with our Advance fares to save even more. We can't guarantee the availability of Advance tickets as they are generally limited in number, so we recommend you buy early to avoid disappointment.
With Advance tickets you can travel contactlessly. Just buy your ticket on our app or on our website to get e-tickets delivered to your smartphone or email. For more information, visit our contactless travel page.  
Buying an Advance ticket reserves a place for you on your chosen train and you may only travel on the service you have booked.  If you wish to have more flexibility for your travel plans, we recommend our Anytime tickets. 
For customers buying Advance tickets on our app or website, there is no fee for amended a journey, as long as you have an online account. Advance tickets are usually non-refundable and you may incur a £10 fee for a change of journey when this is arranged at a station ticket office. You can get more information about Advance tickets, including terms and conditions, from National Rail. 
Please note that due to the current Coronavirus pandemic, Advance tickets can currently only be purchased up to 6 weeks in advance.
Where to buy an Advance ticket
Advance tickets can be bought online, in app, and from a ticket office.
How to change an Advance ticket
You can make changes depending on where you bought your ticket and which delivery option you selected. If you do need to make a change, here's how to do it:
If you bought your ticket with us online, you can change it by visiting My Account >> Orders >> Change Journey
If you bought your ticket at a station ticket machine or ticket office, just return to the station and we'll be happy to help
If you bought your ticket from another retailer, you can still make changes at any of our ticket offices
Unfortunately, you can't change mobile tickets or e-tickets
We charge a £10 fee per ticket to make changes.
How to refund an Advance Ticket
Advance tickets cannot be refunded you may incur a £10 fee for a change of journey when this is arranged at a station ticket office.
Book with confidence
The rail industry, with approval from the Department for Transport, is enabling a 'Book with Confidence' policy allowing customers to change their booked journey fee-free should their circumstances change. Walk-up tickets already have flexibility inbuilt, but the industry will introduce a temporary amendment to Advance ticket terms and conditions to help customers gain confidence travelling by rail again. From Monday 21 June 2021, Advance ticket bookings can be exchanged to travel at a different time or date fee-free, until 30 September 2022.
This change to normal Advance Terms and Conditions enables Advance tickets to be excessed to travel on a different service (paying any excess fare), or for the Advance ticket to be surrendered back to the retailer in exchange for a paper Rail Travel Voucher - as a backup option - and used on any future journey or purchase.

Fee-free change of journey – Customers will still be required to pay any fare difference, and changes must be made by 18:00 the day before travel; original origin and destination must remain the same, but the customer is permitted to change the date and time to travel on another service or day.

Advance tickets can be surrendered back to original retailer for a Rail Travel Voucher (RTV), for use purchasing a future ticket. Vouchers are valid for 12 months from the date of issue. Request must be made by 18:00 the day before travel.
Did you know?

Travel safer

You can plan ahead and decide when to travel using our Capacity Checker.

Check capacity