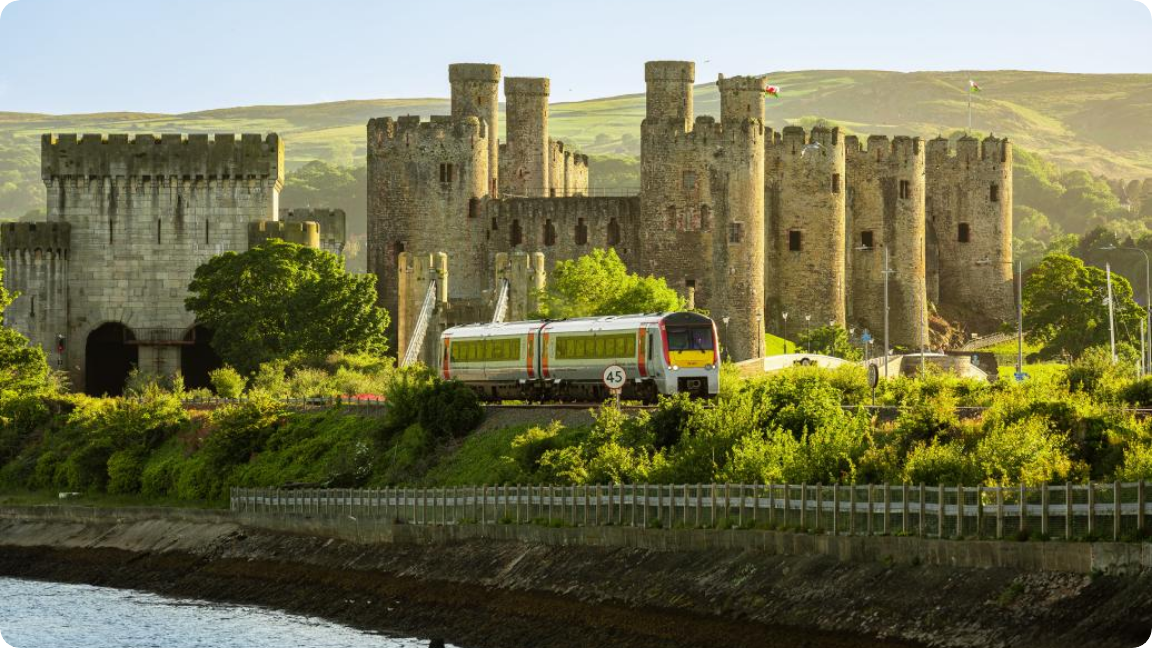 We've teamed up with Cadw to offer our customers 2-for-1 on the price of entry to their historic sites when you travel there by train.
With a valid same-day rail ticket, you and a travelling companion can get two entry tickets for the price of one when you visit some of the best-known landmarks in Wales.
Cadw look after over 120 historic locations across Wales, many of which are easily accessible by rail. We're working in partnership with them to save you money when you travel by train to visit these world-famous heritage sites. 
We happen to have more castles per square-mile than any other country in Europe plus our fair share of ancient forts, abbeys, chapels and medieval houses. There's plenty to discover.
Why not make the most of this fantastic 2-for-1 offer? Discover the enthralling history, legendary tales, spell-binding myths and unforgettable stories of some truly spectacular attractions. All you need to do is present a valid TfW train ticket.
We've rounded up some of the best sites to visit on our network below.
Looking for more inspiration for an adventure? Check out this blog to help you plan your day out with a plus-one to visit an ancient Welsh stronghold. Our 2-for-1 offer guarantees a great experience for great value.
*Terms and Conditions apply.
See the T&Cs:

You'll need to show your Transport for Wales train ticket, valid for a journey taking place on the same day that you visit the Cadw attraction. The 2-for-1 offer is available at Cadw sites where you pay for entry, and you'll need to redeem it on the same day that you purchase your entry ticket. Your TfW ticket must be valid to the nearest station which serves the attraction you're choosing to visit.
 
Please note that this offer will end on 31 May 2024.
 
You can view further information on the terms and conditions on the Cadw website.