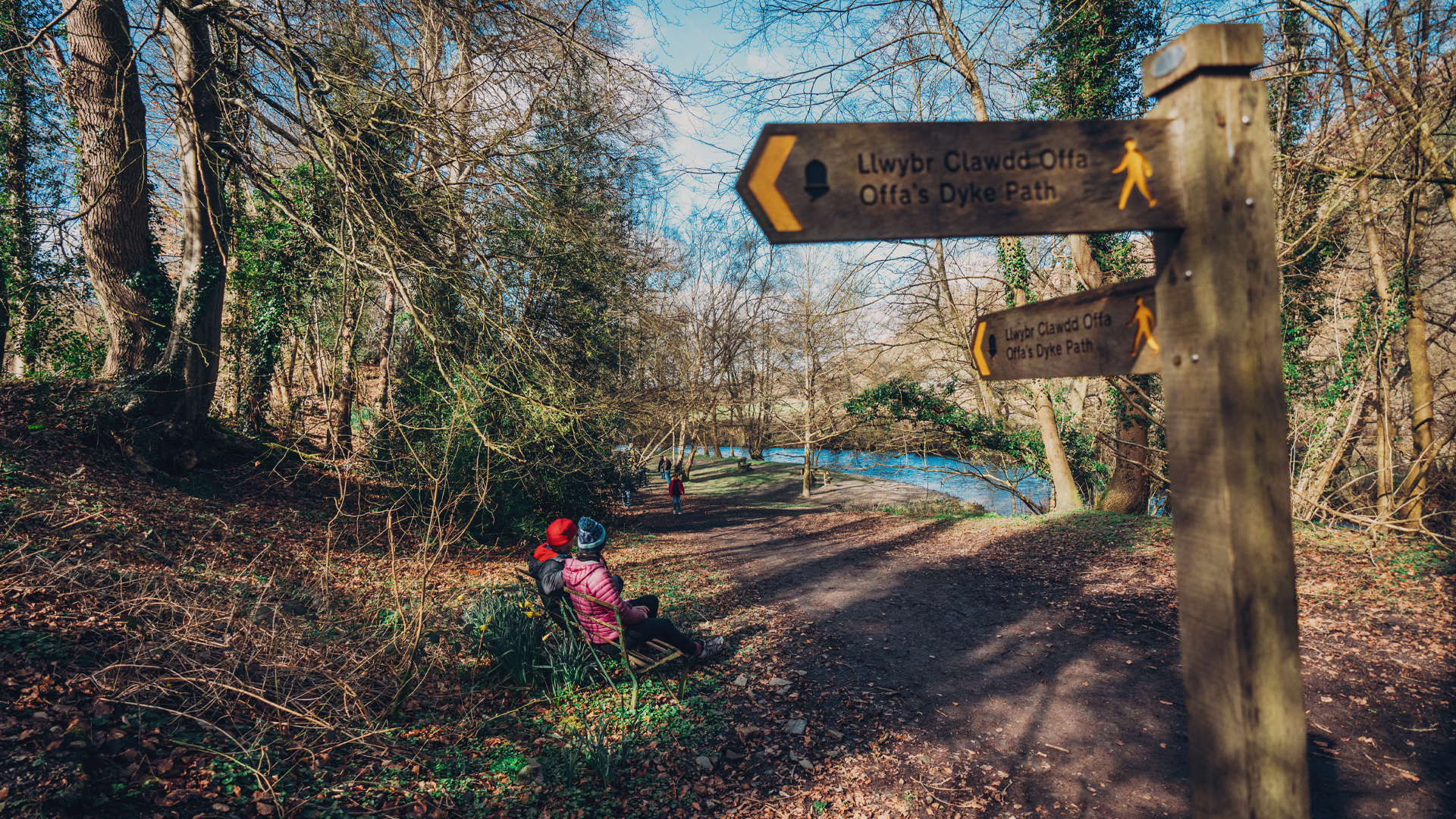 Mid Wales
Many of our stations across Mid Wales can act as a gateway to key walking routes. The Wales Coast Path links up closely to our Cambrian line, as do key entry sites to Offa's Dyke, making it easy to travel by train one-way and walk back the other. We've noted some key routes below:
Wales Coast Path gateway stations
Aberystwyth
Whether walking north or south, you have two options on leaving Aberystwyth train station.
Option 1. Turn left for 0.2 miles / 0.3 kilometres along Alexandra Road then Mill Street (A487) to reach the Wales Coast Path by Trefechan Bridge. Turn left to cross the bridge and head south towards Llanrhystud and Aberaeron. Or head straight on here to take in the coastal views to the south and pass the remains of Aberystwyth Castle, the iconic Old College building, the pier and promenade.
Option 2. Alternatively, cross the main road by the lights and along Terrace Road. Go straight ahead through the town to join the Wales Coast Path on the promenade. Here you can turn right to go up Constitution Hill and head north towards Borth, or turn left to head south past the pier towards Aberaeron.
Borth
It's only a couple of hundred yards from Borth station to the Wales Coast Path. Turn left out of the station down Princes Street (B4353) to reach the path at a junction with a track on the left. Turn left here to head north through Cors Fochno and Dyfi National Nature Reserve towards Machynlleth, or keep on the main road through Borth to head south to Aberystwyth.
Machynlleth
The Wales Coast Path passes right in front of this station. Simply head out of the station to reach the A487 trunk road and the Wales Coast Path. Turn right towards Aberdyfi and left towards Borth and Aberystwyth.
Aberdovey
Two significantly contrasting walks await you if alighting from this station. Head north towards Tywyn to experience a pancake-flat, five-mile-long, walk behind the dunes to Tywyn, or  head east for an upland route to explore the countryside above the Dyfi valley.
Barmouth
An easy stroll across one of Wales' iconic architectural features awaits you here, crossing the Mawddach estuary over the much-photographed Barmouth bridge, which can only be crossed on foot, bicycle or by train.
The Wales Coast path is 0.1 miles / 0.15 kilometres from the station - just head right down Beach Road when you get off the train.
Pwllheli
The thriving market town of Pwllheli marks the end of the Cambrian line and is another great spot to reach the Wales Cost Path, just outside the station. Head west down North Quay to go towards Criccieth or head south down bullet-straight Embankment Road to reach the coast by the Gorsedd Circle from where you can carry on towards Llanbedrog and Abersoch.
Offa's Dyke gateway stations
Welshpool
Depart from the station and make your way along the canal for around 30-minutes (2.5km) until you reach Offa's Dyke path at Buttington Bridge. From here, there is a 50km stretch of the famous footpath between Welshpool and Knighton. Be aware however that almost all of this route is on a slope.
Knucklas to Knighton
A moderate 5 mile walk from Knucklas with a steady climb To Bailey Hill to meet Glyndwr's Way which passes thought hill country and though an old quarter of Knighton to the Narrows and clock tower. You can view the full walking route here.
Knighton is also home to the Offa's Dyke centre where you will find more information on local walks.